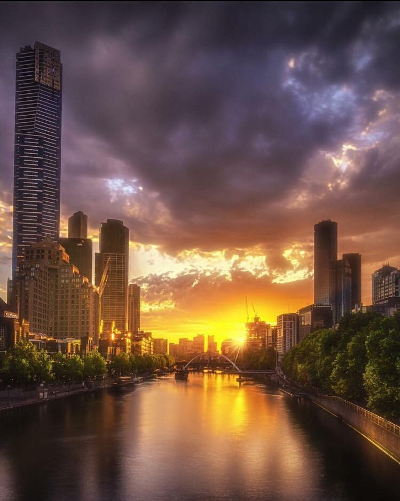 I love living in Melbourne and I loved growing up in Melbourne. It's a beautiful city, especially at night when it's all lit up. Driving through the city after night-shift always gave me a kick. There was always minimal traffic at 4 am or 5 am on a weekday morning and I never got tired of checking out my surroundings as I cruised through the city centre on my way home.
Another reason why I love Melbourne so much is its entertainment scene. Melbourne is the music capital of Australia and in the 1980s and 1990s, we were spoilt for choice. Practically every pub had live music and most didn't charge an entrance fee so I was able to see INXS and Mental as Anything for free. Pub bands were not the only music available. From classical to punk rock all genres was catered for. I saw the Royal Melbourne philharmonic orchestra at the Arts Centre and, for a while, Jazz After Dark was a favourite of mine.
We Melbourne folk love our music so much that many international acts have recorded their live concerts in Melbourne. Pink and Dolly Parton are two that I was fortunate to be in the audience at concerts which were chosen for recording live. Other international acts I saw were The Village People (my first) and I was also at their 30-year reunion tour concert. I was fortunate that I had the opportunity to see all my top favourites. David Bowie, Blondie, Brian Ferry and The Divinyls. I've seen many more international and local bands and never walked away disappointed. Musicals and plays are also a big part of Melbourne culture. I've seen too many musicals to mention. Phantom of the opera, The Pirates Of Penzance and Muriel's Wedding are my top 3. I had to attend more than one performance of each, of course.
Melbourne has a hugely popular Comedy Festival. When the festival wasn't running, for there's always a show on in Melbourne, I was able to see Billy Connolly and Rowan Atkinson and locals Judith Lucy and Denise Scott. In fact, there are many shows and sights to see in Melbourne and I'm so grateful that we are so spoilt for choice.
One of my best memories of Melbourne's nightlife was as a 20-year-old at the Split Enz 'Enz With A Bang' concert tour. It was at Festival Hall and I can recollect with much clarity that moment when I turned to see the lass standing next to me was Jane Clifton. She looked back at me and smiled. Jane was an actress on my favourite TV show as a teen, Prisoner. Prisoner was like my religion during high school and I never missed an episode every Tuesday and Thursday nights. In those days once you missed an episode that was it as there were no home recordings available. Anyhow, there's Jane smiling at me when suddenly the crowd went wild as the first cords of a Split Enz popular major hit started and everyone crowded towards the stage in a rush, Jane included. This was my first ever 'it doesn't get better than this' moment.
Music isn't the only thing Melbourne has to offer as we also have some beautiful beaches. The Great Ocean Road is a testament to that. We are also renowned for our coffee and, as an Italian, that's high praise indeed. We are known as The Garden State for greenery abounds, The Dandenong Ranges are breath-taking. I could go on. I love my home and I love where my migrant family chose to live. I love the multicultural vibe, the bright city lights, the many gorgeous sights, friendly and laid-back city that is Melbourne.